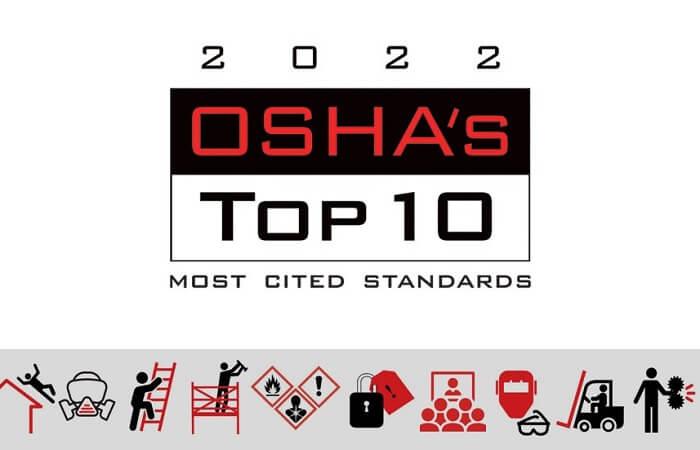 02 Sep

10 Most Frequently Cited OSHA Violations in 2022

Ensuring workplace safety is a critical priority for both employers and employees. To maintain safe working conditions, the Occupational Safety and Health Administration (OSHA) regularly conducts inspections and issues citations for violations of workplace safety standards. In 2022, OSHA continued to focus on key areas of concern, resulting in the following 10 most frequently cited violations:

1. Fall Protection (29 CFR 1926.501)

Falls remain a leading cause of workplace injuries and fatalities. This violation includes issues related to inadequate fall protection systems, guardrails, safety nets, and personal fall arrest equipment.
SST 8-Hour Fall Prevention

This NYC Department of Buildings-Approved curriculum is a prescribed (required) course that fulfills one of the requirements for an individual applying for a Site Safety Training (SST) Card.
Online – USD $150 – 8 Hours
In-Classroom – USD $175 – 8 Hours
 2. Hazard Communication (29 CFR 1910.1200)
Failure to properly communicate workplace hazards through labeling, safety data sheets, and employee training was a significant violation. This is crucial for ensuring that workers are aware of potential dangers associated with chemicals and substances in the workplace.
3. Scaffolding (29 CFR 1926.451)
Issues related to scaffold construction, use, and access were commonly cited. Proper scaffold assembly and maintenance are essential to prevent falls and injuries in the construction industry.
SST 8-Hour Suspended Scaffold Supervisor Refresher

Our scaffolding courses feature versatile curriculum that cater to both seasoned scaffolding workers, and those who are brand new to the practice. We'll focus on the polices and standards of OSHA, as well and discuss the DOB.
In-Classroom – 8 Hours – USD $200

4. Respiratory Protection (29 CFR 1910.134)
Violations in this category involve improper selection, fitting, and use of respirators, as well as inadequate respiratory protection programs. Ensuring that workers have the appropriate respiratory equipment is crucial for protecting against airborne hazards.
5. Ladders (29 CFR 1926.1053)
Ladder-related violations encompass issues such as improper ladder use, damaged ladders, and insufficient training on ladder safety. Correct ladder usage is vital to prevent falls and injuries in various industries.
6. Powered Industrial Trucks (29 CFR 1910.178)
This category includes violations related to the operation of forklifts and other powered industrial trucks. Lack of training, improper maintenance, and unsafe operation practices were commonly cited issues.
7. Lockout/Tagout (29 CFR 1910.147)
Violations in lockout/tagout procedures involve failure to implement energy control measures during equipment maintenance and servicing. Proper lockout/tagout procedures are essential for preventing unexpected equipment startup and related injuries.
8. Fall Protection – Training Requirements (29 CFR 1926.503)
This violation specifically addresses the lack of adequate training for employees exposed to fall hazards. Proper training is crucial for workers to recognize and mitigate fall risks effectively.
9. Machine Guarding (29 CFR 1910.212)
Machinery-related violations include inadequate machine guarding, which can lead to serious injuries or amputations. Ensuring that moving machine parts are properly safeguarded is essential for worker safety.
10. Personal Protective Equipment (29 CFR 1910.132)
Violations in this category involve issues related to inadequate personal protective equipment (PPE) usage and availability. Employers must provide appropriate PPE and ensure that employees use it correctly to mitigate workplace hazards.
Addressing these frequently cited violations requires a commitment to workplace safety, comprehensive training, and regular inspections. Employers must prioritize the safety of their workforce by identifying and correcting potential hazards and ensuring compliance with OSHA standards. Employees also play a crucial role by actively participating in safety programs and reporting safety concerns. Together, employers and employees can work towards creating safer workplaces and reducing the incidence of OSHA violations in the years to come.